A Pennsylvania / New York professional construction company.
Home Improvement Contractor License #: 2044553 H.I.S License #: 2030679-DCA
---
Contact Us:
Office:

New Office: 1242 Derry Street
Harrisburg, PA 17104
Phone:
717-954-7383
Email:
Contacts@OlivosPropertyPerfection.com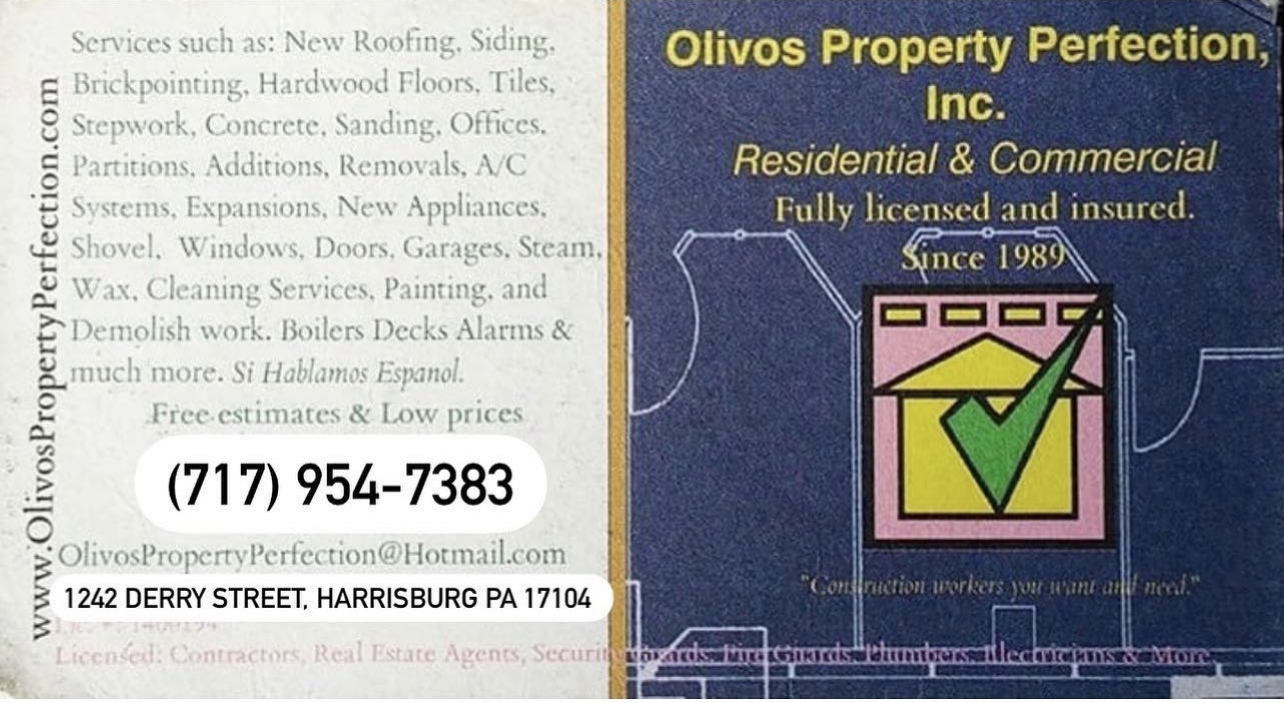 Olivos Property Perfection, Inc. Company Representatives:
President, CEO:
(Extension #: 101)
(2012 - current) Mr. Daniel Angel Olivo
Email
:
Daniel.olivo@olivospropertyperfection.com
General Manager: (Extension #: 103)
(2012- current) Mr. Ramon Olivo
Head of Construction Technology Department: (Extension #: 104)
(2012 - current) Mr. Hilmy Tejada

Supervisor: (Extension #: 105)
(2012 - current) Mr. Joel Alexander Olivo
Email
:
Joel.olivo@olivospropertyperfection.com
More company owners are:
Chantal Rosario (Olivo)
Leidy Olivo
Maritza Olivo
Erickson Tejada
Hilmy Tejada
Joel Diaz Olivo
Leonel Peralta
Leytong Peralta
Veronica Olivo
Yisel Santos
Juan Carlos
Melissa Tejada
Denisse Olivo
Chloe Rodriguez
Dariel Olivo
Ivy Portillo
Isabel Olivo Molina
Marino Olivo
Andres Olivo
Camilo Olivo
Guillermo Olivo
Rafelina Santos Olivo
Maria Elvira Olivo
(This is subject to change at anytime, must check with Daniel Olivo for the most updated information.)

To contact and or reach any of Olivos Property Perfection, Inc. other representatives such as construction workers please contact extension # 101. Every one part of Olivos Property Perfection has an email that is theirfirstname.lastname@olivospropertyperfection.com in case you would like to reach any one of them directly. But we encourage you to call us for faster responses. Thank you.

We also offer notary services.
Twitter Page: @OlivoConstruct
The link to our Twitter page is:
https://twitter.com/OlivoConstruct

Our Instagram page is:


If you are interested in having a career or simply a job with Olivos Property Perfection, Inc., then please contact us.
- We are looking for licensed individuals. \

Click on Career Opportunities, located at the bottom of this page and fill out an application. If you are already an employee and want to apply for a different position, please check in your MyOPPpage web page or contact your supervisor. Thank you.
Testimonies / Feedback / References from clients:
"Awesome work and great price. Thank you olivos property perfection." - Comment added by Mary M. from NY, NY.
"I didn't know which company to choose because there were so many. I let my kids pick, they know research better than me. They found olivos property perfection and I was like ok. Everything was perfect." - Comment added by Richard W. from Brooklyn, New York.
"I didn't want to get ripped off. I waited a long time until I saw that olivos proper ty perfection was the cheapest." - Comment added by Paul R. from Bronx, New York.
"Excellent" - Comment added by William S. from Staten Island, New York.
"If I have to say something about the work to a friend, it would be that I never had to rush them. They are fast." - Comment added by Shawn B. from Harlem, New York.
"Me encanta la forma en que mi casa se veia antes, pero despues fue fantastico. Gracias olivos" - Comment added by Jennifer G. from NY, NY.
"Olivos Property Perfection have really helped me and my family. I'm a business owner and actor. I had to remodel my business property in New York while I did some acting elsewhere and Olivos Property Perfection did a hell of a great job!" - Comment made by James from Philadephia, PA.
"At first I was skeptical so we had researched long and hard only to finally decide that Olivos Property Perfection (OPP) are really great at working construction on both of our houses in New York and in Pennsylvania, they do really amazing jobs, contracts executed, they keep their word, and have the lowest prices. I am very busy performing, operating critical surgeries in different countries on my patients, so a highly recommended professional construction company like them is very much needed to manage our properties in the States, they work on time, which is vital, as well. No complaints whatsoever from me, just my sincere recommendation as well." - Comment added by Dr. Gervis from Dominican Republic.
"Good workers, they sell home appliances and mattresses as well. Made the contract and signed it the same day they Olivos Property Perfection gave us the estimate, Olivos Property Perfection is very good. I made sure the contract says the company name and not just one person, notarized. They finished the job on time." - Comment added by Louis Washington from Harrisburg, PA.
A percentage of Olivos Property Perfection, Inc.'s profit goes to the medical field such as to fights for a cure to Cancer/HIV and/or other charities. We appreciate your business.