Office:
260 Audubon ave suite 7E
New York NY 10033
Phone:
1-877-411-3870
Email:
Contacts@OlivosPropertyPerfection.com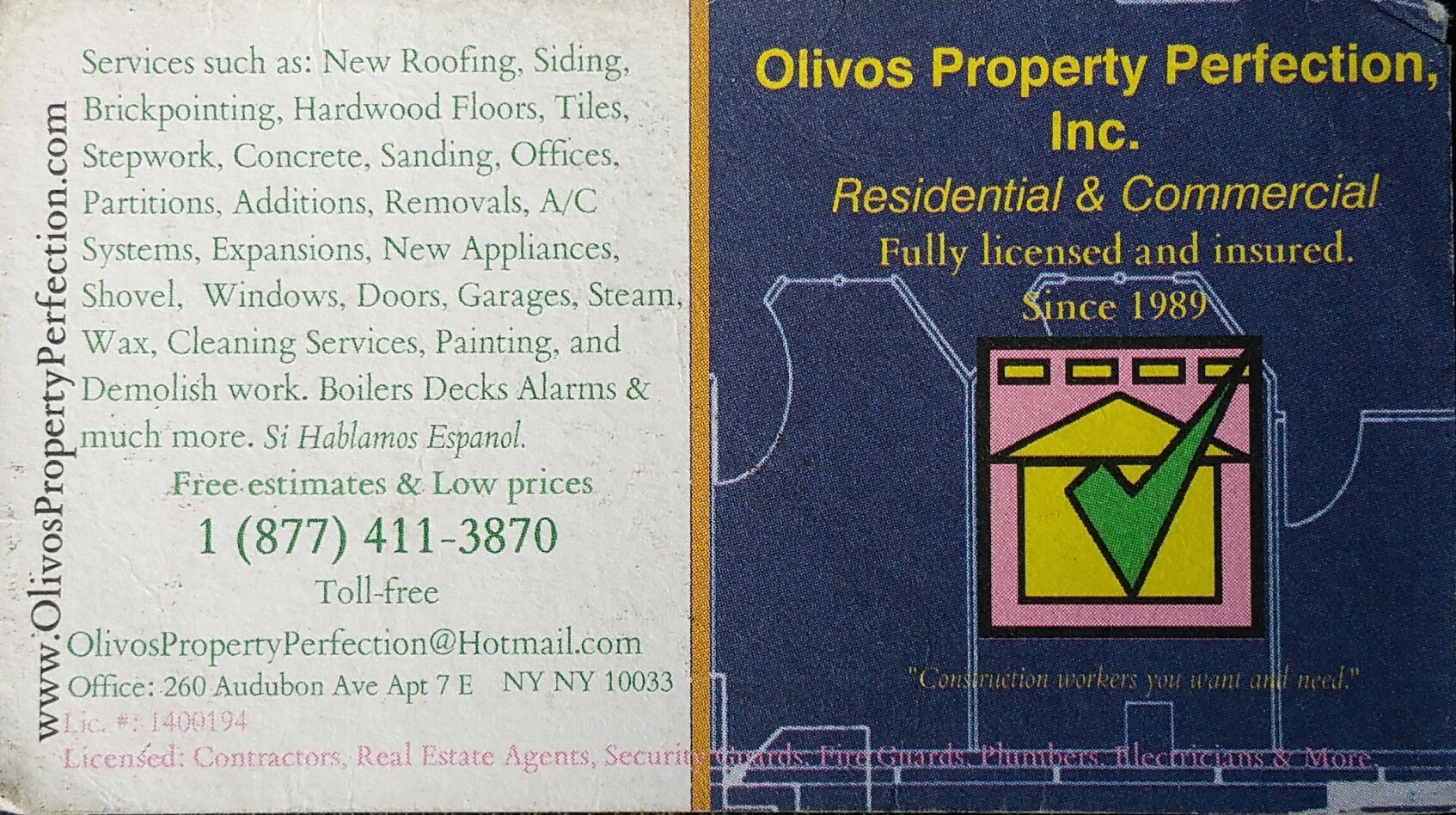 Olivos Property Perfection, Inc. Company Representatives:

President, CEO:
(Extension #: 101)
Daniel Angel Olivo
Email
: Daniel.olivo@olivospropertyperfection.com
Vice President: (Extension #: 102)
Severino Payano
Email
: Severino.payano@olivospropertyperfection.com
General Manager: (Extension #:103)
Ramon Olivo
Email
: Ramon.olivo@olivospropertyperfection.com
Head of Construction Technology Department: (Extension #:104)
Hilmy Tejada
Email: Hilmy.tejada@olivospropertyperfection.com

Supervisor: (Extension #105)
Joel Alexander Olivo
Email: Joel.olivo@olivospropertyperfection.com

To contact and or reach any of Olivos Property Perfection, Inc. other representatives such as construction workers please contact extension # 101. Every one part of Olivos Property Perfection has an email that is theirfirstname.lastname@olivospropertyperfection.com in case you would like to reach any one of them directly. But we encourage you to call us for faster responses. Thank you.


We also offer notary services.
Twitter Page: @OlivoConstruct
The link to our Twitter page is:
https://twitter.com/OlivoConstruct

Our Instagram page is:


If you are interested in having a career or simply a job with Olivos Property Perfection, Inc., then please contact us.
- We are looking for licensed individuals. \


Click on Career Opportunities, located at the bottom of this page and fill out an application. If you are already an employee and want to apply for a different position, please check in your MyOPPpage web page or contact your supervisor. Thank you.

Testimonies or Feedback from customers/clients:
"Awesome work and great price. Thank you olivos property perfection." - Comment added by Mary M. from NY, NY.
"I didn't know which company to choose because there were so many. I let my kids pick, they know research better than me. They found olivos property perfection and I was like ok. Everything was perfect." - Comment added by Richard W. from Brooklyn, New York.
"I didn't want to get ripped off. I waited a long time until I saw that olivos property perfection was the cheapest." - Comment added by Paul R. from Bronx, New York.
"Excellent" - Comment added by William S. from Staten Island, New York.
"If I have to say something about the work to a friend, it would be that I never had to rush them. They are fast." - Comment added by Shawn B. from Harlem, New York.
"Me encanta la forma en que mi casa se veia antes, pero despues fue fantastico. Gracias olivos" - Comment added by Jennifer G. from NY, NY.
A percentage of Olivos Property Perfection, Inc.'s profit goes to the medical field such as to fights for a cure to Cancer/HIV and/or other charities. We appreciate your business.